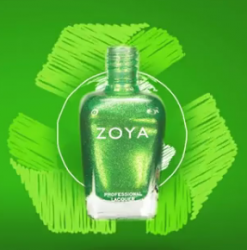 Have any old or unwanted nail polishes around your house? Consider trading them in for better ones. Starting today through 4/27, Zoya is offering FREE Zoya nail polishes whenever you send them a minimum of 6 bottles of your non-ZOYA nail polishes. You'll just have to pay $4 for shipping per bottle.
Out with the old – in with the new! In honor of Earth Day from April 20, 2011 – April 27, 2011(11:59PM EST) Zoya Nail Polish will exchange* your old, out-of-style, unwanted nail color and replenish your nail polish supply with fresh Zoya fashion colors. All you pay is $4 per bottle for shipping and processing. Choose from over 300 formaldehyde, toluene, camphor and dibutyl phthalate (DBP) free, long-lasting, award winning, healthy colors to replace your old color! Zoya will properly dispose of your old polish.
To trade your nail polish in:
To see how to trade in your nail polish, click on the 'Continue Reading' link in the gray box below.
Go to Zoya.com and pick out the polishes you would like and add them to your cart. You must select at least 6 bottles and no more than 24 bottles of polish.
Apply coupon code EARTHZOYA at checkout.
Your order value will be adjusted to reflect the promotion.
Submit your order.
Once you get your order, ship back the equivalent number of bottles to the ones you received to the return address below. If you got 6 bottles of Zoya, send 6 non-Zoya polishes. Include a copy of your order receipt and ship to the following address. Please check with you carrier on the proper way to ship nail polish.
Art of Beauty, Inc.
c/o Polish Exchange
5060 Taylor Rd, Unit D
Cleveland, OH 44128
The bottles you send in cannot be Zoya, Qtica or Nocti polishes.
They are using the honor code here folks! They want to make sure you get your Zoya Nail Polish! They send you the polish first then you send your old polish back to them! If you do choose to send them your old polish they promise to properly dispose of it according to EPA guidelines. This offer is only good for 1 week so hurry – Don't Wait!
Thanks, Hip2Save!