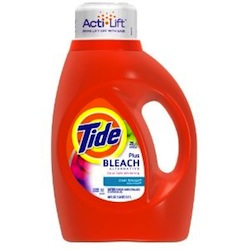 If you just can't give up that brand loyalty to Tide, make sure you pick up this great deal at Amazon! They have a $2 eCoupon that you can clip to make this detergent as low as just $3.99! Here are the deals you can get with the eCoupon:
Tide with Bleach Alternative (50 oz)
List price: $16.39
Amazon price: $5.99
Final cost after eCoupon: $3.99
Total savings: 76%
Tide Free and Gentle 2 Pack (50 oz each)
List price: $31.29
Amazon Subscribe and Save price: $10.17
Final cost after Subscribe and Save and eCoupon: $8.17 ($4.09 each)
Total savings: 74%
This is the best price I've seen on Tide for a long time! Make sure you grab this deal soon if you're interested.
Thanks, Southern Savers!