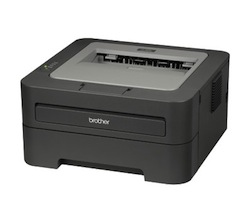 My favorite printer deal is back on Office Depot! You can purchase the Brother HL-2240 Black and White Laser Printer for just $49.99 right now. Add in a filler item like this pink eraser for $0.29, and your order will qualify for FREE shipping!
In case you're wondering why it would be beneficial to switch to a laser printer, the biggest factor is cost per page. I recently calculated the cost per page for a relative, and by switching to a laser printer, she saved over 10¢ per page!
These laser printers also work much better than ink jets in regards to coupons scanning at the stores. The new Databar barcode does not scan very well when printed with an inkjet printer.
Thanks Southern Savers!