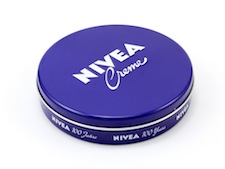 :: Nivea Moneymaker
Wow! Here's an awesome moneymaking deal for you CVS shoppers, and you don't even need any coupons! Right now at CVS, when you buy any Nivea product, you'll get back a $2 ECB. The small Nivea creme tins appear to be included, so you can actually make money when buying these! Even better, the limit appears to be four. 🙂
Here's what I would do to spend the least out of pocket:
Transaction #1:
Buy Nivea Creme Tin, $0.99
Get back a $2 ECB
Transaction #2:
Buy 3 Nivea Creme Tins, $0.99 each
Total: $2.97
Use the $2 ECB from the previous transaction
Pay $0.97
Get back $6 in ECBs
In total, you'll have spent $1.96 plus tax out of pocket, and have $6 in ECBs to use next time. It's like you made $4.04 on these products!
Keep in mind that this deal can end at any time.
:: FREE Cortaid
Make sure to scan your card at the coupon center. Many are receiving a coupon for FREE Cortaid, up to $5.99! Let us know if you get it.