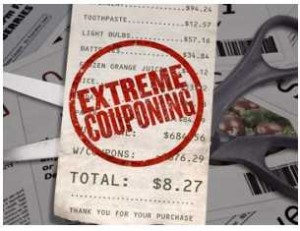 The third season of TLC's Extreme Couponing premieres tonight. Here's all you need to know about couponing and how you can start saving money ethically. Are you ready to save?!
There are a lot of mixed reviews on the show because of questionable actions shown on the show, but I have some new readers who are just starting to coupon, so I am going to tell you how to get started, and use coupons in the correct ways!
Once you understand the basics of how to use coupons, the rest is applying your knowledge and gaining experience. Every store has different limits and rules in place, so I suggest that you read over their coupon policy first.
Here are a few resources to help you get started. Take the time to check out these posts below. You'll find some great information that will hopefully help explain how to coupon. Couponing is a process, and you will not start by walking out of a store with $2,000 worth of items the next day.
Where to Find Coupons
My Coupon Inserts are Different
Frequently Asked Printable Coupon Questions
Learn to Shop at Walgreens
Learn to Shop at Target
Learn to Shop at Walmart
Coupon Database
Looking for a specific coupon? Be sure to check my database before you shop!
---
Are you confused or have questions about the above information? Post in the Frugal Finders Community or send me an email and I'll gladly help you out!
---
Just getting started with couponing? These are some of my favorite places to find coupons and the great in-store deals:
Printable Coupons
Coupon Resources
Coupon Matchups
Coupon Policies
---
Never Miss a Deal!