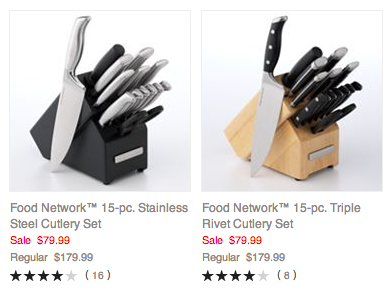 Here is an awesome deal on a cutlery set! Kohl's has the Food Network 15 Piece Cutlery Sets on sale for $79.99. That's $100 off the regular price of $179.99!
As if that wasn't already a great sale, you can use the 15% off coupon code, earn Kohl's Cash, and submit for a $40 rebate to drop the price to just $12.99 shipped!
Food Network 15 Piece Cutlery Set – $79.99
Use coupon code BLACKFRI for 15% off
Pay $67.99
Get back $15 in Kohl's Cash
Submit for the $40 mail-in rebate
Final Price: $12.99
The limit on the rebate is 5, so you could purchase three at once and pay just $7.99 each after Kohl's Cash and rebate!
:: More Kohl's Deals
T-Fal Inspirations Red Nonstick Aluminum Cookware Set $24.49 Shipped
Food Network Enamel Cast-Iron Dutch Oven $15.99 Shipped
Kohl's Keurig Coffee Brewer Deals (As Low As $69.99 Shipped)
Kohl's Deals on Dyson Vacuums
Kohl's: Black & Decker Appliances $1.99 After Kohl's Cash and Rebate
Kohl's: *HOT* Deals on KitchenAid Mixers
Kohl's: *HOT* 3 FREE Kitchen Appliances After Rebate and Kohl's Cash!
Thanks Raining Hot Coupons!