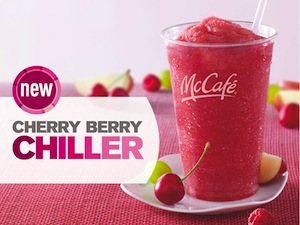 Don't throw away that Parade magazine yet! Most of you should have a coupon for a FREE Cherry Berry Chiller at McDonald's (12 oz). There will also be a coupon for $1/1 Medium or Large Frozen Strawberry Lemonade, Frappe, or Fruit Smoothie too! 🙂
Have any of you tried the Cherry Berry Chiller yet? I had one a few weeks ago and thought it was pretty good!
Coupons valid through June 15, 2012.