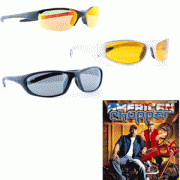 Graveyard Mall is offering 12 pairs of American Chopper sunglasses for only $19.99. Shipping is $5.99 so that's $25.98 shipped, or about $2 a pair!
There are 6 different styles with 4 different colors/lenses of each for a total of 24 different glasses. Order 2 sets and you'll get all 24.
Thanks, SwagGrabber!