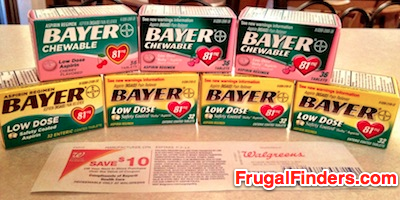 Here's one *HOT* moneymaker at Walgreens!! As you most likely know, there's a high value $3/1 Bayer Aspirin 20 ct. + coupon coming in the 6/24 SmartSource insert. Plus, Walgreens has Bayer aspirin on a Register Reward deal through 6/30: Buy $20 in Bayer or Aleve products, get a $10 Register Reward.
If you can get your hands on 7 coupons, you can actually make $10 on these aspirins!! If you don't have 7 coupons, consider asking your friends or family to go in with you on the deal.
Here's what I did:
Buy 7 Bayer Low Dose or Chewable Aspirin (32-36 ct.), psa $2.99
Use 7 $3/1 Bayer, 20ct+ 06/24/2012 SS Insert (exp 08/18/2012)
Pay as low as $0
Get back a $10 Register Reward for purchasing $20 in Bayer products
Final cost: 7 FREE Aspirins + a $10 moneymaker!!
Make sure you get to the store soon if you can take advantage of this *HOT* deal, as they will sell out very quickly. I can confirm that this deal is working, as I got my coupon inserts early today. 🙂
Let us know if you're able to get this deal, or what other deals you may come up with! Don't forget to check out the full list of Walgreens deals for the week.