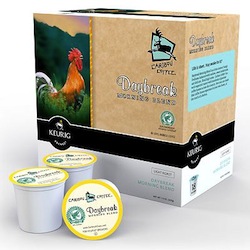 If you're looking for a good deal on K-Cups, make sure you check out this great deal on Kohl's.com!
They have the 18 packs of Caribou Coffee Daybreak Morning Blend Coffee K-Cups and Green Mountain Coffee Sumatran Reserve Coffee K-Cups for just $9.99. You'll need to add them to your shopping cart to see this price.
Even better, Kohl's is offering FREE shipping on all orders right now! Plus, you can use coupon code SMS295 at checkout to save an extra 20%, making these K-Cups just $7.99 shipped. That breaks down to $0.44 per K-Cup.
Thanks For the Mommas!