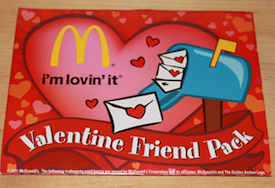 McDonald's has released a new Valentine's Day coupon booklet! It only costs $1, and is filled with 12 FREE product coupons for children 12 and under. These would be great to keep in the car, or hand them out for Valentine's Day instead of candy!
Coupons Inside
(3) FREE Apple Dippers coupons
(3) FREE Small Cone coupons
(3) FREE Apple Juice or White Milk Jug coupons
(3) FREE Hamburger coupons
Please leave a comment if you're able to find these at your store!
Thanks Queen Bee Coupons!