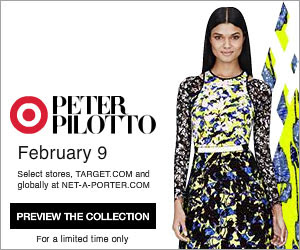 Peter Pilotto for Target Launches February 9th
Target is teaming up with Peter Pilotto and Christopher De Vos for an exclusive, limited-edition spring womenswear collection. The collection will be available online and in-stores starting on February 9th.
There will also be several pieces exclusive to Target.com, including select swimwear, dresses, and tops. These won't be available to purchase in-store.
Pricing on this new collection ranges from $16.99 to $79.99, but most items are under $60. Don't forget that you'll get FREE shipping and 5% off when you use your Target REDcard to pay as well.
Even though the items aren't available to purchase until February 9th, you can preview the collection now by clicking on the banner above. Find your favorite pieces now and be ready to purchase them when the collection goes live on Target.com.
Preview the Peter Pilotto Collection