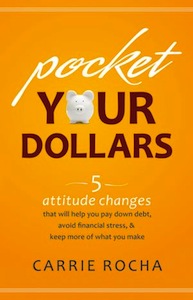 Twin Cities blogger Carrie Rocha, owner of Pocket Your Dollars, recently wrote a book and it's Barnes & Noble's Deal of the Day now through Tuesday 11/20 at 8:59 EST!
It hits shelves nationwide on January 1st, but BN.com is offering pre-ordered books at half-price through Tuesday morning. You can get your copy of Pocket Your Dollars: 5 Attitude Changes That Will Help You Pay Down Debt, Avoid Financial Stress, and Keep More of What You Have for just $6.99. Pre-ordered books will ship on or about December 19.
This $6.99 price is the best price we'll see for this book, or its Kindle or Nook versions, for months. If you want to buy this for yourself or as a gift, now is a great time to do so!
Carrie's book "shares the secrets that will help you change the way you think about money. Seven years ago, she and her husband were surprised to discover the mountain of debt they'd accumulated. They knew they'd have to make big changes. Thirty months later they were debt free and have stayed that way ever since.
How did they do it? It wasn't through a step-by-step financial program or spending plan. It turns out, budgets can't fix everything—real change takes an attitude adjustment."
Click Here to Get This Deal
Coupons procured by Savings.com