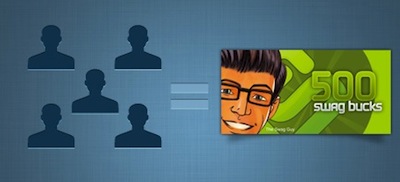 Swagbucks has started a great new promotion that they're calling 5 for 5. Here's how it works:
Get at least 5 new referrals who are not members of your household or sharing an address with you to sign up for Swagbucks.
Each referral must earn 50 Swag Bucks after joining, not including any bonuses they may get during sign up.
Once they've earned that minimum of 50 Swag Bucks, you've qualified for a bonus of 500 Swag Bucks, which will be applied at the end of each month!
The best part: the 500 bonus Swag Bucks is in addition to matching bonuses you might receive from friends' activities! What a great way to start earning those Amazon gift cards for the holidays!
When you tell your friends about this promotion, don't forget to mention the code 5for5. When they use that code on the sign up form, they'll receive 70 bonus Swag Bucks!
This code will expire at 12pm PT on Monday, October 17th, so hurry and sign up today!