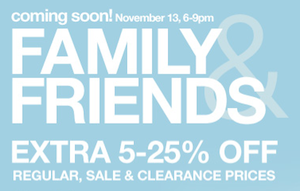 Whether you're buying presents or looking for something fun to wear at holiday parties, get ready for the holiday season at the Sears Family and Friends Sale this weekend!
Clothing and accessories are 20% off; fine jewelry, shoes, and bed and bath items are 15%; and almost everything else is 10% off. The online sale starts Saturday, November 12 at 8PM CT, and runs through Monday, November 14 at 4am CT. The in-store sale is on Sunday, November 13 from 6-9 PM.
There's a special in-store savings pass and a sale flyer that can be downloaded as well.