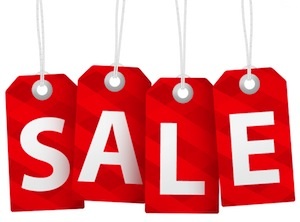 Coming across a great sale or finding discounted items on clearance has always been a dependable way to keep more of your hard-earned money in your pocket. But here's a little secret: if you schedule your purchases according to a retailer's calendar and actually seek out these seasonal sales when stores have them penned in the planner, you can save exponentially more.
So, let's take a look at the mechanics behind these scheduled sales and take note of when to buy what.
Why Seasonal Sales?
Retailers and manufacturers offer discounts at certain times of the year for various reasons, including the following:
To make way for newer models: when the most current models of products are about to be released, sales floors need to be cleared of older inventory that is taking up precious real estate in the store.
To encourage sales of the new models: after all, why pay 15% more for something that is almost identical to the 9-month older (also brand-new) version sitting 12 feet away?
To make way for the next holiday or season: after-holidays and post-seasons are the best times to take advantage of slashed prices.
When to Buy What?
Here's a quick breakdown of the best things to buy based on seasons and quarters:
1st Quarter / Late Winter & Early Spring
Christmas decorations; wrapping paper
Boats
Wedding Supplies (find deals on vendors for off-season nuptials)
Cellphones; Televisions; Computer Monitors
Air conditioners and outdoor grilling equipment
Winter Coats; Suits; Virtually all clothing
Bedding and Linens: the "White Sale"
2nd Quarter / Spring & Early Summer
Houses
Vacuum Cleaners
Refrigerators
Gym memberships (following the defection of New Year's Resolutioners)
Tools
Cruises
Mattresses
3rd Quarter / Summer & Early Fall
Furniture
Swimsuits
Appliances
Computers
Holiday Airfare
Lawnmowers
Office Supplies
4th Quarter / Fall & Early Winter
Bicycles
Broadway Tickets
Patio Furniture
Champagne
Pools
Golf Clubs
Jeans
Once you establish a pattern of only buying certain items when they are at their most discounted, it will begin to seem like second nature to you. What are your favorite seasonal sales to take advantage of?
Norman Fong is the chief and co-founder of BuyVia, an online and iOS app smart shopping service that uncovers great deals on popular products. BuyVia makes it easy for consumers to get price alerts from both online and local retailers for best cheap laptops and other electronics products.