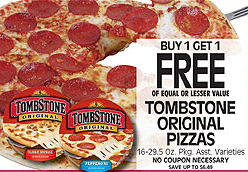 I recently received an interesting question in my email: What is the best bargain you were able to score this summer? I thought I would do a blog post so you all could hear about this too. 🙂
This past spring, Hasbro was running a promotion where you would get a coupon for a FREE Tombstone Pizza with purchase of a Hasbro game. The limit was five, and I used coupons to sweeten the deal. When I received the coupons in the mail this summer, I held onto them, hoping for a sale.
What a sale that was! My local grocery store, Coborn's, ran a buy one get one FREE sale on Tombstone pizzas. I still had all five of my coupons, so I was able to get ten FREE pizzas! We still have quite a few in our freezer. 😉
I am an Infolinks publisher. This post was not edited by Infolinks, and all opinions are 100% mine.