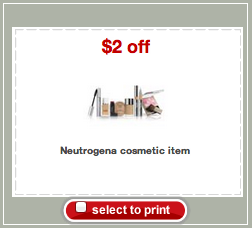 Here are even more awesome Target deals for you to grab this week! You can get FREE Neutrogena lip balm, cheap laundry detergent, and more.
Neutrogena Lip Balm, $2.49
$1/1 Neutrogena Lip or Eye Makeup 03/25/2012 SS Insert (exp 05/27/2012)
$2/1 Neutrogena Cosmetic Item, TARGET coupon (exp 05/19/2012)
Final cost: FREE!
Merona Women's Tops, possibly on clearance for $3
$3/1 Merona Women's Apparel Item
Final cost: FREE!
Method Laundry Detergent (8 loads), possibly on clearance for $2.54
$2/1 Method Laundry Detergent
Final cost: $0.54 each
Betty Crocker Cookie Mix, $1.99
$0.50/1 Betty Crocker Cookie Mix
Final cost: $1.49 each
Welch's Fruit Fizz, $2.50
$1/1 Welch's Fruit Fizz
Final cost: $1.50 each
Bayer Chewable Aspirin (36 ct.), $2.29
$2.50/2 Bayer Aspirin Product 04/29/2012 RP Insert (exp 06/30/2012)
Final cost: $1.04 each
V8 V-Fusion Smoothie, $2.69
$1/1 V8 V-Fusion Smoothie
Final cost: $1.69 each
Buy 2 Glad Trash Bags, $11.99 each
(2) $1.85/1 Glad Trash Bags (watch a short video)
Pay $20.28
Get back a $5 Target gift card
Final cost: $7.64 each
Check out the rest of the Target deals before you shop!
Thanks Totally Target!