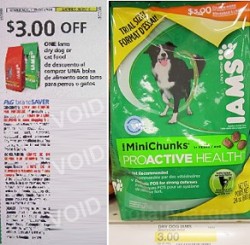 Most of you received a high value $3/1 Iams Dog Food coupon in the 1/29 Procter and Gamble coupon insert. Target carries the small bags for $3, so they will be FREE after the coupon! Even if you don't have a dog, this would be a great item to donate.
Iams Dog Food (24 oz), $3
$3/1 Iams Dry Dog or Cat Food 01/29/2012 P&G Insert (exp 02/29/2012)
Final cost: FREE!
Also, the Vicks VapoRub is included in this week's $5 gift card web 3 deal, so you can pick those up for just $0.22 each after coupons:
Buy 3 Vicks VapoRub, $3.89 each
Total: $11.67
(3) $1/1 Vicks Product 01/01/2012 or 01/29/2012 P&G Insert
Stacks with (3) $1/1 Vicks Vapo Target coupon 01/08/2012 RP Insert
Pay $5.67
Get back a $5 Target gift card
Final cost: just $0.22 each!
Thanks to Totally Target for the deals and photo!