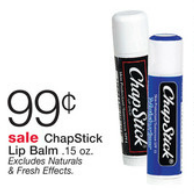 As part of this week's Bonus Buys, Walgreens is offering Chapstick Lip Balm for just $0.99. There's a $1/1 Chapstick Walgreens coupon in the February coupon booklet, so you can get these for FREE after the coupon!
I have tested this deal and can confirm that it does work without any beeps. My store has the new registers, so your results may vary if yours hasn't updated to the new registers yet.
Chapstick Lip Balm (0.15 oz), $0.99
$1/1 ChapStick Lip Care, .15 oz, Walgreens IVC
Final cost: FREE!
Don't forget to check out the other Walgreens coupon deals this week!