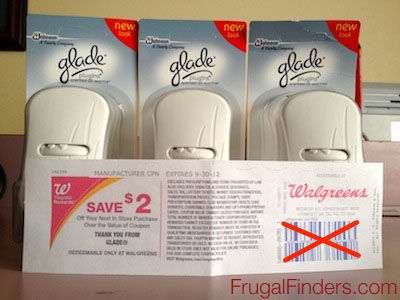 Yay! The Glade Scented Oil Warmers deal I posted about in the Walgreens weekly deals is even better than we expected! This week, Glade Scented Oil Warmers are on sale 3/$4, and you'll get 1,000 Balance Rewards points when you buy three.
There's a Register Reward offer printing for these as well. Combine the points, Register Reward, sale price, and coupons to make $2!
Buy 3 Glade Scented Oil Warmers, 3/$4
(3) $1/1 Glade PlugIns Scented Oil Warmer or Starter Kit printable OR
(3) $1/1 Glade Plugins Scented Oil Warmer, exp. 9/22/12 (SS 08/26/12)
Pay $1
Get back 1,000 Balance Rewards points ($1-$1.25)
Get back a $2 Register Reward
Final cost: 3 for FREE + a $2-$2.25 moneymaker!
Balance Rewards is the new Walgreens loyalty card. Read more about the Walgreens Balance Rewards Card.