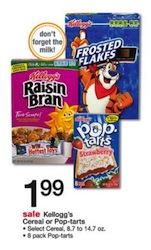 As I posted yesterday, there are two new Kellogg's cereal coupons available to print on Coupons.com. Both are for $1/2 Kellogg's Cereals, but they are for different varieties. Print both of these, then head over to Walgreens to get cereal for $1.49 a box.
Kellogg's Cereal, $1.99
$1/2 Kellogg's Raisin Bran, Kellogg's Crunchy Nut™ and/or Kellogg's Smart Start Cereal
$1/2 Kellogg's Corn Flakes, Kellogg's Crispix and/or Kellogg's FiberPlus Cereals
Final cost: $1.49 each
Don't forget to check out the other Walgreens deals going on this week!