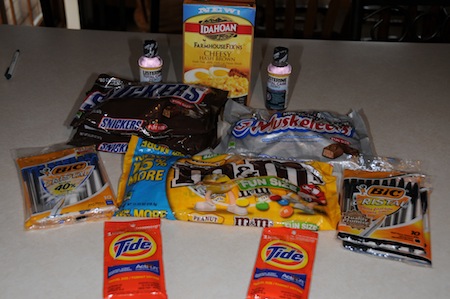 So as you may know, there's an awesome new travel size Tide moneymaker available at Walmart! I got my inserts early today because our newspaper publishes an Early Sunday edition with tomorrow's inserts. I picked up a few other deals while I was at Walmart and wanted to share my trip with you!
Here's what I did:
Bought 2 Travel Size Tide Detergent, $0.97 each
Bought 2 Travel Size Listerine Total Care Zero, $1.72 each
Bought 4 Bic Cristal Pens, $0.97 each
Bought 1 Idahoan Cheesy Hash Brown Potatoes, $1.25
Bought 4 Mars Candy Bags, $1.99 (price match the Walgreens ad ending today)

Total: $18.47 ($19.74 with tax)

Used 2 $2/1 Tide Detergent 10/30/2011 P&G Insert (exp 11/30/2011)
Used 2 $2/1 Listerine Total Care Zero printable coupons (no longer available)
Used 4 $1/1 Bic Stationery Product printable coupons
Used 1 FREE Idahoan Hash Brown Potatoes 10/17/2011 All You, Nov 2011
Used 4 $1.50/1 Mars Product printable coupons

Final cost: $0.49 for all 13 items after tax!!