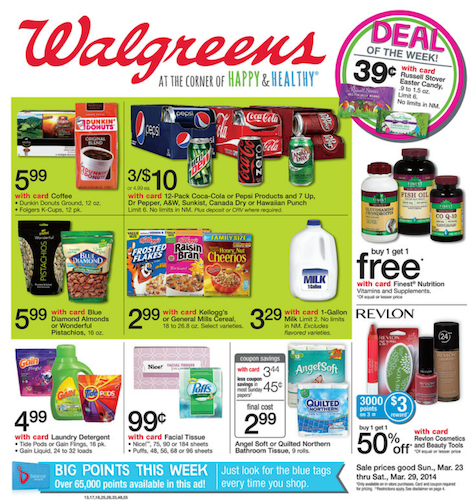 Here are the best Walgreens deals and coupon matchups for the week of 3/23 – 3/29/14! Get FREE Vaprino, FREE Zantac, cheap Triscuits, and more after coupons and rewards this week.
Don't forget that you'll need your Balance Rewards card to get sale prices, use in-store coupons, and earn bonus points.
Walgreens Shopping Resources:
Check out these sales and coupons on your phone! Download the Favado app to your smartphone today.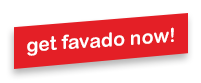 Walgreens Balance Rewards
Buy 2 Participating TRESemme Products, Get 2000 Points (=$2.00)
TRESemme Shampoo or Conditioner, 32 oz or Select Stylers – $3.99
$2.00/1 Tresemme Shampoo or Conditioner; Excludes Trial or Travel Size; Maximum 2 Identical Coupons Allowed In Same Shopping Trip – 3-23-14 RP – (exp. 04/20/14)

$2.00/1 Tresemme Styling Product; Excludes Trial or Travel Size and Extra Firm Control Hair Spray, 4.2 oz; Maximum 2 Identical Coupons Allowed In Same Shopping Trip – 3-23-14 RP – (exp. 04/20/14)
Out-of-Pocket Price: $1.99
Final Price: $0.99
Buy 2; Use (2) $2/1 Coupons; Includes 2000 Points (=$2.00)
Buy 2 participating personal care items, Get 1000 Points (=$1.00)
Dove Men + Care Body Wash, 13.5 oz – $4.99 – B1G1 50% OFF
$4.99 – Prices may vary by store
$1.00/1 Dove Body Wash, 12 oz or Larger; Maximum 2 Identical Coupons Allowed In Same Shopping Trip – 3-2-14 RP – (exp. 03/30/14)

$2.00/1 Dove Men+Care Body & Face Wash, 13.5 oz or Larger; Body & Face Bar, 6 pk or Larger; or Active Clean Shower Tool; Excludes Trial or Travel Size; Maximum 2 Identical Coupons Allowed In Same Shopping Trip – 3-23-14 RP – (exp. 04/20/14)
Out-of-Pocket Price: $1.75
Final Price: $1.25
Buy 2; Use (2) $2/1 coupons; Includes 1000 Points (=$1.00)
Suave Naturals Body Wash, 12 oz – $1.99 – B1G1 50% OFF
$1.99 – Prices may vary by storeIncludes: Select varieties
Out-of-Pocket Price: $0.50
Final Price: Free
Buy 2; Use (2) $1/1 Coupons; Includes 1000 Points (=$1.00)
Buy 3 participating Revlon items, Get 3000 Points (=$3.00)
Revlon ColorStay Shadowlinks Eye Shadow – $2.99 – B1G1 50% OFF
$2.99 – Prices may vary by store
$1.00/2 Revlon Eye Products – 3-16-14 SS – (exp. 04/20/14)
Out-of-Pocket Price: $1.75
Final Price: $0.75
Buy 6; Use (3) $1/2 Coupons; Includes 6000 Points (=$6.00)
Spend $15 or more on participating Coca-Cola, Nabisco and Hershey's products, Get 3000 Points (=$3.00)
Nabisco Wheat Thins, 8.5 – 9.1 oz; Ritz, 13.7 oz; or Triscuit, 9 – 9.5 oz – $2.00
2/$4.00 ($2.29 Each)
Out-of-Pocket Price: $1.00
Final Price: $0.50
Buy 2 Triscuit; Use (2) $1/1 Coupons; Includes $1 Checkout 51 Savings; Mix & Match with other participating items for additional Balance Rewards Savings
Spend $20 on participating Shave products, Get 5000 Points (=$5.00)
Schick Hydro 3 Razor System – $9.99 – B1G1 50% OFF
$9.99 – Prices may vary by store
$10.00/2 Schick Schick Hydro Razor AND (1) Hydro Cartridge, 4 ct or Larger; Excludes Schick Hydro 5 Disposables – 3-23-14 SS – (exp. 05/04/14)

$4.00/1 Schick Hydro Razor; Excludes Disposables – 2-23-14 SS – (exp. 04/06/14)
Out-of-Pocket Price: $3.49
Final Price: $2.24
Buy 4; Use (4) $4/1 Coupons; Includes 5000 Points (=$5.00)
Walgreens Register Rewards
Buy 1 Vaprino, Get $5 Register Reward
Vaprino A-D Anit-Diarrheal, 12 pk – $5.00
Out-of-Pocket Price: $5.00
Final Price: Free
Buy 1; Includes $5 Register Reward
Cookies, Snacks & Candy
Mars Snickers or Milky Way Bites, 7 or 8 oz – $3.00
2/$6.00 ($3.69 Each)
$2.00/3 Mars Brand Candy, 7 – 11.5 oz; Includes Snickers, Twix, M&M's, 3 Musketeers, Dove, Milky Way, or Bites Brand Bags
$3.00/2 Mars Bites, 6 oz or Larger; Includes Snickers, Milky Way and Simply Caramel, and 3 Musketeers; Available at Walmart
$2.00/3 MARS Chocolate Bags, 7 – 11.5 oz; Includes SNICKERS, M&M'S, 3 MUSKETEERS, DOVE, MILKY WAY or BITES Brands (Manufacturer's Coupon) – Walgreens Digital Coupon – (exp. 04/16/14)

$1.00/2 Mars Snickers Bites, 8 oz or Milky Way Bites, 7 oz – (Walgreens Coupon) – Walgreens IVC March 2014 – (exp. 03/29/14)
Final Price: $1.00
Buy 2; Use $3/2 Coupon and $1/2 Walgreens IVC
Personal Care
Pond's, Suave, or Dove; Mix & Match
Suave Skin Therapy Exhale Alluring Rich + Moisturizing Body Lotion, 18 oz – $3.00 – B1G1 50% OFF
$3.00 – Prices may vary by store
$1.50/1 Suave Body Lotion, 18 oz or Larger; Excludes Trial or Travel Size; Maximum 2 Identical Coupons Allowed In Same Shopping Trip – 3-9-14 RP – (exp. 04/06/14)
Final Price: $0.75
Buy 2; Use (2) $1.50/1 Coupons
CoverGirl Queen Eyeshadow – $3.39 – B1G1 50% OFF
$3.39 – Prices may vary by store
$1.00/1 Covergirl Product; Excludes Trial or Travel Size and Accessories; Limit of 4 Like Coupons Per Household Per Day – 3-2-14 PG – (exp. 03/31/14)

$3.00/2 Covergirl Product; Excludes Trial or Travel Size and Accessories; Limit of 4 Like Coupons Per Household Per Day – 3-2-14 PG – (exp. 03/31/14)
Final Price: $1.04
Buy 2; Use $3/2 Coupon
Maybelline ExpertWear Single Eye Shadow – $4.39 – $2 OFF
$4.39 – Prices may vary by store
$1.00/1 Maybelline New York Eye Shadow or Eye Liner Product; Excludes Baby Lips – 2-2-14 RP – (exp. 03/29/14)
Final Price: $1.39
Buy 1; Use $1/1 Coupon
Pharmacy
Nature Made CoQ10, 30mg, Softgels – $12.99 – B1G1
$12.99 – Prices may vary by store
$2.00/2 Nature Made Products – 3-9-14 SS – (exp. 04/09/14)

$2.00/1 Nature Made (Manufacturer Coupon) – Walgreens Spring 2014 Vitamin & Supplement Booklet – (exp. 05/31/14)

$2.00/1 Nature Made, Any (Manuf. Coupon) – Walgreens Vitamins & Supplements – (exp. 05/31/14)

$5.00/1 Nature Made SAM-e or CoQ10 (Manufacturer Coupon) – Walgreens Spring 2014 Vitamin & Supplement Booklet – (exp. 05/31/14)
Final Price: $1.50
Buy 2; Use (2) $5/1 Coupons
Zantac Acid Reducer 150, 24 ct or 75, 30 ct – $8.99
Out-of-Pocket Price: $2.99
Final Price: Free
Buy 1; Use $4/1 Coupon and $2/1 Walgreens IVC; Includes Mail In Rebate