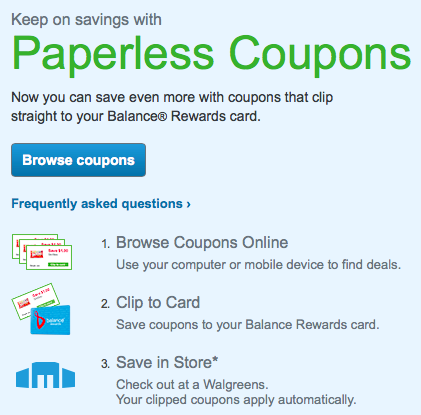 Walgreens Paperless Coupons for Balance Rewards Members
If you're a frequent Walgreens shopper like I am and have a Balance Rewards card, I have some great news for you! Walgreens is making it easier to save money by offering Walgreens paperless coupons. These are coupons you can send straight to your Walgreens Balance Rewards card!
To get started with Walgreens paperless coupons, you'll first need to link your Balance Rewards membership with your Walgreens.com account.
To do this, head over to the Balance Rewards page and enter your account number or phone number. Follow the instructions to link your Balance Rewards membership with a Walgreens.com account. If you don't have a Walgreens.com account, you'll be given an opportunity to create one.
When you're finished, or if you already have your Balance Rewards membership linked, log into your Walgreens.com account. Click on Weekly Ads & Coupons at the top of the page. Click on the "Browse Coupons" button.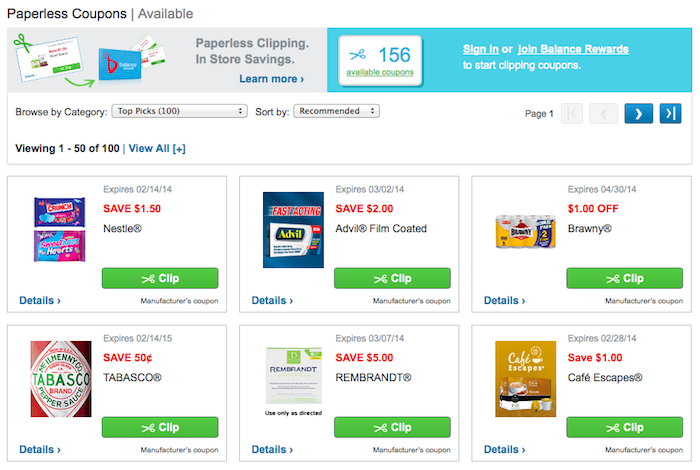 You'll see all the coupons available to load to your Balance Rewards card on this page. These are all manufacturer's coupons. The expiration date will be listed next to each coupon.
Click on the Clip button next to each coupon you want to clip to your card. Click on the Details link to see the fine print and size restrictions of each coupon. When you're finished, go to your local Walgreens store and purchase the items you clipped coupons for.
At the checkout, have the cashier enter your Balance Rewards membership into the transaction by scanning your card or entering your phone number. Any applicable Walgreens paperless coupons will be applied to the transaction automatically after the cashier presses the Payment button!
You can only redeem each coupon once. These paperless coupons may not be stacked with a paper manufacturer's coupon.
One of the best features: you can access these Walgreens paperless coupons on your phone! Just go to Walgreens.com and tap "Weekly Ads & Coupons".
This will be very convenient for those times when you're in the store and realize you need to pick up an item you didn't have on your list. Just pull up the Walgreens paperless coupons and see if they have one for the product you're purchasing!
I'm really excited about this new way to save at Walgreens! Hopefully, they will be adding more exciting deals and coupons in the future to help us save more.
What are your thoughts about Walgreens paperless coupons? Will you be using them?