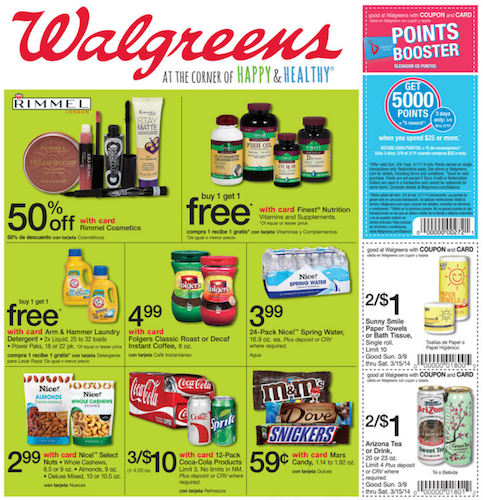 Here are the best Walgreens deals and coupon matchups for the week of 3/9 – 3/15/14! This week's highlights include great deals on Suave and Irish Spring products, FREE Almay Cosmetics, FREE Bic Razors, FREE Wet 'n Wild Cosmetics, and more.
Also, don't miss the points booster coupon! You'll get 5,000 bonus points when you spend $25 or more with in-ad coupon. The $25 is calculated after Walgreens coupons are applied, but before manufacturer's coupons are applied.
Don't forget that you'll need your Balance Rewards card to get sale prices, use in-store coupons, and earn bonus points.
Walgreens Shopping Resources:
Check out these sales and coupons on your phone! Download the Favado app to your smartphone today.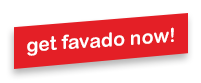 Walgreens Balance Rewards
* Spend $25 or More, Get 5000 Points; With In-ad Coupon; VALID 3/9 – 3/11 ONLY
Point Booster Days – Spend $25 or More, Get 5000 Points (=$5.00)
Valid March 9 – 11 ONLY; Must use In-ad Coupon
Spend $6 on participating Suave Products, Get 2000 Points (=$2.00)
Suave 24 Hour Protection Anti-Perspirant Deodorant Invisible Solid, 2.6 oz – $2.00
$2.00 – Prices may vary by store
$0.25/1 Suave Deodorant; Excludes Trial or Travel Size and 1.4 oz; Maximum 2 Identical Coupons Allowed In Same Shopping Trip – 3-9-14 RP – (exp. 04/06/14)

$0.50/1 Suave Deodorant; Excludes Trial or Travel Size and 1.4 oz; Maximum 2 Identical Coupons Allowed In Same Shopping Trip – 3-9-14 RP – (exp. 04/06/14)
Out-of-Pocket Price: $1.00
Final Price: $0.33
Buy 3; Use (3) $1/1 Coupons; Includes 2000 Points (=$2.00)
Suave Body Wash, 12 oz – $1.99 – B1G1 50% OFF
$1.99 – Prices may vary by store
Out-of-Pocket Price: $0.50
Final Price: $0.19
Buy 5; Use (5) $1/1 Coupons; Includes 2000 Points (=$2.00)
Walgreens Register Rewards
Buy 1 participating Colgate Product, Get $2 Register Reward
Colgate Total Advanced Mouthwash, 16.9 oz – $3.99
$1.00/1 Colgate Mouthwash, 8 oz or Larger – 3-9-14 SS – (exp. 04/05/14)
Out-of-Pocket Price: $2.99
Final Price: $0.99
Use $1/1 Coupon; Includes $2 Register Reward
Buy 2 participating Irish Spring Products, Get $4 Register Reward
Irish Spring Bar Soap, 6 pk or Body Wash, 18 oz – $3.50
2/$7.00 ($3.99 Each)
$0.50/1 Irish Spring Body Wash; Excludes 2.5 oz – 3-9-14 SS – (exp. 03/29/14)

$0.50/1 Irish Spring Multi-Bar Packs, 6 ct or Larger – 3-9-14 SS – (exp. 03/29/14)

$1.00/1 Irish Spring GEAR Bar Soap, 6 pk – 2-23-14 SS – (exp. 03/15/14)

$1.00/1 Irish Spring GEAR Body Wash; Excludes 2.5 oz – 2-23-14 SS – (exp. 03/15/14)
Out-of-Pocket Price: $2.50
Final Price: $0.50
Buy 2; Use (2) $1/1 Coupons; Includes $4 Register Reward; If Gear included
Kellogg's and Kashi; Mix & Match
Kashi Cereal, 13.8 – 14 oz – $2.50
2/$5.00 ($2.79 Each)Includes: Select varieties; Pictured: Go Lean Crunch
$1.00/2 Kashi Cereals, 6.5 oz or Larger – 2-2-14 RP – (exp. 03/16/14)

Buy 2 participating Cereal items, Get $1 OFF On Your Next Order; Buy 3, Get $2 OFF On Your Next Order; Buy 4, Get $3 OFF On Your Next Order Kellogg's or Kashi Cereal, 8.7 oz or Larger – Walgreens Catalina – (exp. 03/30/14)
Out-of-Pocket Price: $2.00
Final Price: $1.25
Buy 4; Use (2) $1/2 Coupons; Includes $3 Register Reward (Catalina)
Kellogg's Special K Cereal, 11.2 – 12.5 oz – $2.50
2/$5.00 ($2.79 Each)
Out-of-Pocket Price: $2.00
Final Price: $1.25
Buy 4; Use (2) $1/2 Coupons; Includes $3 Register Reward (Catalina); Add'l Savings with Kellogg's Family Rewards $0.75/1 or $1.50/1 Coupons
Refrigerated
Coffee-Mate Coffee Creamer, Refrigerated, 16 oz – $1.50
With Walgreens In-ad Coupon; Limit 4
$1.25/2 Nestle Coffee-Mate Liquid Creamers; Excludes Natural Bliss – 2-9-14 SS – (exp. 04/28/14)
Final Price: $0.88
Buy 2; Use $1.25/2 Coupon
Personal Care
Chapstick, Carmex, or Blistix; Mix & Match
Carmex, 0.15 – 0.35 oz – $1.00
3/$3.00 ($1.59 Each)
$1.00/2 Carmex Lip Balm – 1-5-14 SS – (exp. 04/05/14)
Final Price: $0.50
Buy 4; Use (2) $1/2 Coupons
IVC
Almay Cosmetics – B1G1 50% OFF
Includes: Foundation, Primer, Concealer, Blush, Powder and Eye Cosmetics or Makeup Removers
$2.00/1 Almay Cosmetics or Makeup Removers – (Walgreens Coupon) – Walgreens IVC March 2014 – (exp. 03/29/14)
Almay Intense i-Color Eye Shadow Softies, 0.07 oz – $4.99 – B1G1 50% OFF
$4.99 – Prices may vary by store
$2.00/1 Almay Cosmetics or Makeup Removers – (Walgreens Coupon) – Walgreens IVC March 2014 – (exp. 03/29/14)
Final Price: Free
Buy 2; Use $5/2 Coupon and $2/1 Walgreens IVC
BIC Simply Soleil for Women, Disposable Shaver, 4 pk – $5.99 – B1G1 50% OFF
$5.99 – Prices may vary by store
$3.00/1 BIC Disposable Razor – 3-9-14 SS – (exp. 04/05/14)
Final Price: $1.50
Buy 2; Use (2) $3/1 Coupons
BIC Twin Select Sensitive Skin Disposable Shavers for Men, 10 pk – $3.79 – B1G1 50% OFF
$3.79 – Prices may vary by store
$3.00/1 BIC Disposable Razor – 3-9-14 SS – (exp. 04/05/14)
Final Price: Free
Buy 2; Use (2) $3/1 Coupons
Nivea Men Sensitive Shave Gel – $3.79 – B1G1
$3.79 – Prices may vary by store
$1.00/1 Nivea Men Shave Gel or Foam, 7 – 8.7 oz – 3-2-14 RP – (exp. 03/30/14)

$2.00/1 Nivea Men Face Care Product or (2) Shave Gels or Foams, 0.33 – 8.7 oz – 2-9-14 RP – (exp. 03/09/14)
Final Price: $0.90
Buy 2; Use (2) $1/1 Coupons
Speed Stick or Lady Speed Stick Antiperspirant/Deodorant, 2.3 – 3.25 oz – $1.99
Includes: Select varieties
Final Price: $0.49
Use $1.50/1 Coupon; If Gear included
Wet N Wild Cosmetics – 25% OFF
Includes: Select varieties
$1.00/1 Wet n Wild Product – 3-9-14 RP – (exp. 03/22/14)
Wet n Wild MegaProtein Mascara Very Black – $1.79 – 25% OFF
$1.79 – Prices may vary by store
$1.00/1 Wet n Wild Product – 3-9-14 RP – (exp. 03/22/14)
Final Price: $0.34
Pharmacy
Nature's Bounty and Osteo; Mix & Match
Nature's Bounty Calcium 600 Plus Vitamin D3, Tablets, 60 ct – $4.99 – B1G1
$4.99 – Prices may vary by store
$1.00/1 Nature's Bounty Vitamin or Supplement; Excludes Eye-Vites and Lutein – 1-19-14 SS – (exp. 03/20/14)

$2.00/2 Nature's Bounty Vitamins or Supplements; Manufacturer Coupon with Kroger Logo – 3-9-14 RP – (exp. 04/08/14)

$1.00/1 Nature's Bounty Vitamin Or Supplelemt, Any (Manuf. Coupon) – Walgreens Vitamins & Supplements – (exp. 05/31/14)

$1.00/1 Nature's Bounty Vitamin or Supplement (Manufacturer Coupon) – Walgreens Spring 2014 Vitamin & Supplement Booklet – (exp. 05/31/14)
Final Price: $1.50
Buy 2; Use (2) $1/1 Coupons
Hall's Cough Drops, 30 ct or Luden's Cough Drops, 20 – 30 ct – $1.50
2/$3.00 ($1.99 Each)
$1.00/2 Halls Drops Bags, 17 ct or Larger – 2-9-14 SS – (exp. 03/23/14)

$0.25/1 Luden's Throat Drops, 20 or 30 ct – (Walgreens Coupon) – Walgreens IVC March 2014 – (exp. 03/29/14)
Final Price: $0.50
Buy 2 Hall's; Use $1/2 Coupon; Includes $1 Checkout 51 Savings