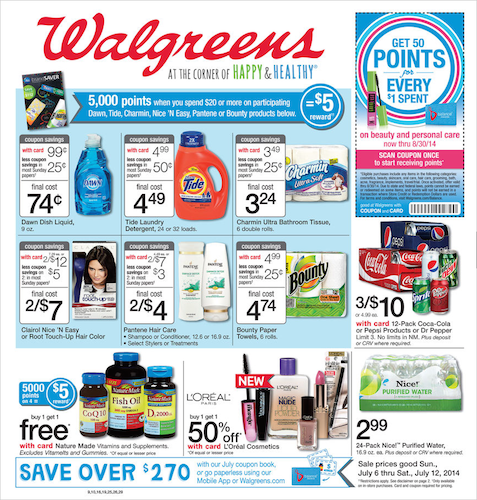 Here are the best Walgreens deals and coupon matchups for the week! Pick up FREE Mitchum, FREE Gold Peak Tea, FREE Kinesiology Tape, $0.99 Renu Solution, and more!
Don't forget that you'll need your Balance Rewards card to get sale prices, use in-store coupons, and earn bonus points.
Walgreens Shopping Resources:
Check out these sales and coupons on your phone! Download the Favado app to your smartphone and start saving today.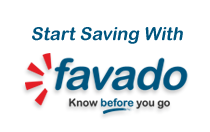 Walgreens Balance Rewards
* Get 50 Points for Every $1 Spent on Beauty & Personal Care now through 8/30/14
Walgreens Points Booster Coupon
Valid 6/29 – 8/30; Must use In-ad Coupon
Buy 1 participating Renu product, Get 5000 Points (=$5.00)
Bausch + Lomb Renu Multipurpose Solution, 12 oz – $7.99
Includes: Fresh or Sensitive
Out-of-Pocket Price: $5.99
Final Price: $0.99
Buy 1; Use $2/1 Coupon; Includes 5000 Points (=$5.00)
Buy 2 participating Mitchum products, Get 2000 Points (=$2.00)
Mitchum or Lady Mitchum Deodorant, 2.25 – 3.4 oz – $2.99
Excludes: Clinical Strength
$2.00/1 Mitchum Deodorant; Excludes Trial and Travel Size and Multipacks – 6-8-14 SS – (exp. 07/13/14)
Out-of-Pocket Price: $0.99
Final Price: Free
Buy 2; Use (2) $2/1 Coupons; Includes 2000 Points (=$2.00)
Spend $20 or More on participating Dawn, Tide, Charmin, Nice 'N Easy, Pantene or Bounty, Get 5000 Points (=$5.00)
Pantene Shampoo or Conditioner, 12.6 or 16.9 oz, Stylers and Treatments – $3.50
2/$7 ($4.49 Each)Includes: Select varieties
Out-of-Pocket Price: $1.83
Final Price: $1.00
Buy 6; Use (2) $5/3 Coupons; Includes 5000 Points (=$5.00)
Tide Laundry Detergent, 24 or 32 loads – $4.99
$1.50/1 Tide Detergent, 40 oz or Larger; Excludes Trial and Travel Size, Pods, and 10 oz; Limit of 4 Like Coupons Per Household Per Day

$0.50/1 Tide Detergent, Boost, To Go, or Washing Machine Cleaner; Downy Fabric Softener; or Bounce; Excludes Trial and Travel Size; Limit of 4 Like Coupons Per Household Per Day, Tide Simply Clean & Fresh, Pods, Downy Unstopables, Single Rinse and Bounce Bursts- 7-6-14 PG – (exp. 07/31/14)

$1.00/2 Tide Detergent, Boost, To Go, or Washing Machine Cleaner; Downy Fabric Softener; or Bounce; Excludes Trial and Travel Size; Limit of 4 Like Coupons Per Household Per Day, Tide Simply Clean & Fresh, Pods, Downy Unstopables, Single Rinse and Bounce Bursts- 7-6-14 PG – (exp. 07/31/14)

$2.00/3 Tide Detergent, Boost, To Go, or Washing Machine Cleaner; Downy Fabric Softener; or Bounce; Excludes Trial and Travel Size; Limit of 4 Like Coupons Per Household Per Day, Tide Simply Clean & Fresh, Pods, Downy Unstopables, Single Rinse and Bounce Bursts- 7-6-14 PG – (exp. 07/31/14)
Out-of-Pocket Price: $3.69
Final Price: $2.69
Buy 5; Use (4) $1.50/1 Coupons and (1) $0.50/1 Coupon; Includes 5000 Points (=$5.00); Additional Rebate Savings available wyb $30 in participating items
Walgreens Register Rewards
Buy 1 participating Gold Peak Tea product, Get $1.49 Register Rewards
Gold Peak Tea, 18.5 oz – $1.49
Out-of-Pocket Price: $1.49
Final Price: Free
Buy 1; Includes $1.49 Register Rewards
Buy 1 participating Mueller product, Get $6.99 Register Rewards
Mueller Kinesiology Pre-Cut Strips or Tape, 5.47 yards – $6.99
Out-of-Pocket Price: $6.99
Final Price: Free
Buy 1; Includes $6.99 Register Rewards
Canned Goods & Soups
Kraft, Barilla or Campbell's; Mix & Match
Barilla Pasta Microwaveable Meal, 9 oz – $1.50
2/$3 ($1.99 Each)
Final Price: $0.50
Buy 2; Use (2) $1/1 Coupons
Beverages
Naked Juice Smoothie, 15.2 oz – 2/$5 Coupon Price
Pictured: Protein and Antioxidant varieties
Out-of-Pocket Price: $1.50
Final Price: $0.50
Buy 2; Use (2) $1/1 Coupons and In Ad Coupon; Includes $1 Ibotta and $1 Shopmium Rebate; Additional Ibotta and/or Shopmium Rebates if varieties included
Home Supplies
Glad Wrap or Nice! Foil; Mix & Match
Glad Cling Wrap, 200 sq ft – $2.00
2/$4 ($2.29 Each)
Final Price: $1.00
Buy 2; Use (2) $1/1 Coupons
Lysol Cleaners: Mix & Match
Lysol Disinfecting Wipes, 35 ct – $2.50
2/$5 ($2.59 Each)
$2.00/2 Lysol Products (Manufacturer Coupon "Redeem at Walgreens") – Walgreens Cold & Flu Booklet – (exp. 09/01/14)

FREE Lysol Wipes, 35 ct (Get $3 via Mail In Rebate) or Lysol Disinfecting Spray, 19 oz (Get $5 via Mail In Rebate) – 6-22-14 SS – (exp. 07/28/14)
Out-of-Pocket Price: $1.50
Final Price: $0.25
Buy 2; Use $2/2 Coupon; Includes FREE Wipes After Mail In Rebate
Personal Care
Secret or Old Spice; Mix & Match
Secret Scent Expressions Antiperspirant & Deodorant, 2.7 oz – $4.99 – B1G1 50% OFF
$4.99 – Prices may vary by store
$0.75/1 Secret Outlast, Destinations, or Scent Expressions Stick or Body Spray; Excludes Trial and Travel Size; Limit of 4 Like Coupons Per Household Per Day
$2.00/2 Secret Outlast, Destinations, or Scent Expressions Stick or Body Spray; Excludes Trial and Travel Size; Limit of 4 Like Coupons Per Household Per Day
$2.00/2 Secret Outlast, Destinations Or Scent Expressions, Stick or Body Spray; Excludes Trial or Travel Size; Limit of 4 Like Coupons Per Household Per Day

$2.00/2 Secret Outlast, Destinations, or Scent Expressions Deodorants and Body Spray; Excludes Trial and Travel Size and 0.5 oz; Limit of 4 Like Coupons Per Household Per Day – 7-6-14 PG – (exp. 07/31/14)

$4.00/3 Secret Outlast, Destinations, or Scent Expressions Deodorants and Body Spray; Excludes Trial and Travel Size and 0.5 oz; Limit of 4 Like Coupons Per Household Per Day – 7-6-14 PG – (exp. 07/31/14)
Final Price: $1.75
Buy 2; Use $2/2 coupon